Ringba Call Intelligence & Analytics Review
People often misinterpret the term call intelligence with call tracking these two are related but not the same. You can say that call intelligence is more extensive than call tracking. Call tracking deals with the basics like how a person arrive the webpage and what actions he took that lead him up to make a phone call. This is not to show that the data collected through call tracking is useless in fact, it is very much useful because knowing the reason behind a call makes it a bit easier for the marketers to effectively monitor how their campaigns are performing. Businesses that use call tracking are already ahead of many of those that do not.
Now taking it a step further enters call intelligence, it basically allows marketers to gain more than what call tracking has to provide with. It provides with an extensive insight of the journey of the customer allowing evaluating in terms of phone call. Many of the call intelligence software basically allow visitor integration with third and second party data platforms and sources. This tracking of journey of customer on various other channels, sources etc. gives the marketers a detailed review.
After this collection and integration of data, algorithms of the software provide the customer with a call agent most appropriate for them. Basically it includes a visitors/ customers past conversion history, source of marketing and other important data related to that person. This has helped in providing customers with a more personalized experience and an effective customer service, this result in more conversion than with the usual low quality customer service.
Since you are now aware of the importance of call intelligence platforms and how they can help increase the ROI (Return on Investment) of your company, let's take a look at one of the best call intelligence platform available, Ringba. Following is a Ringba call intelligence review for you to highlight the main charms of it.
Ringba and Call Intelligence
It is a call intelligence platform that gives you complete control over the call marketing procedures and increases the ROI (Return on Investment). Not only allows you to track down the sources of the call but its advanced tool helps you integrate the previous history of the customer. This helps the agent that is dealing with the customer to provide them with a personalized experience. It basically provides you with all the relevant information available regarding the customer.
Key Features of Ringba
Although there's long list of features of Ringba but we've listed some of the main features down below: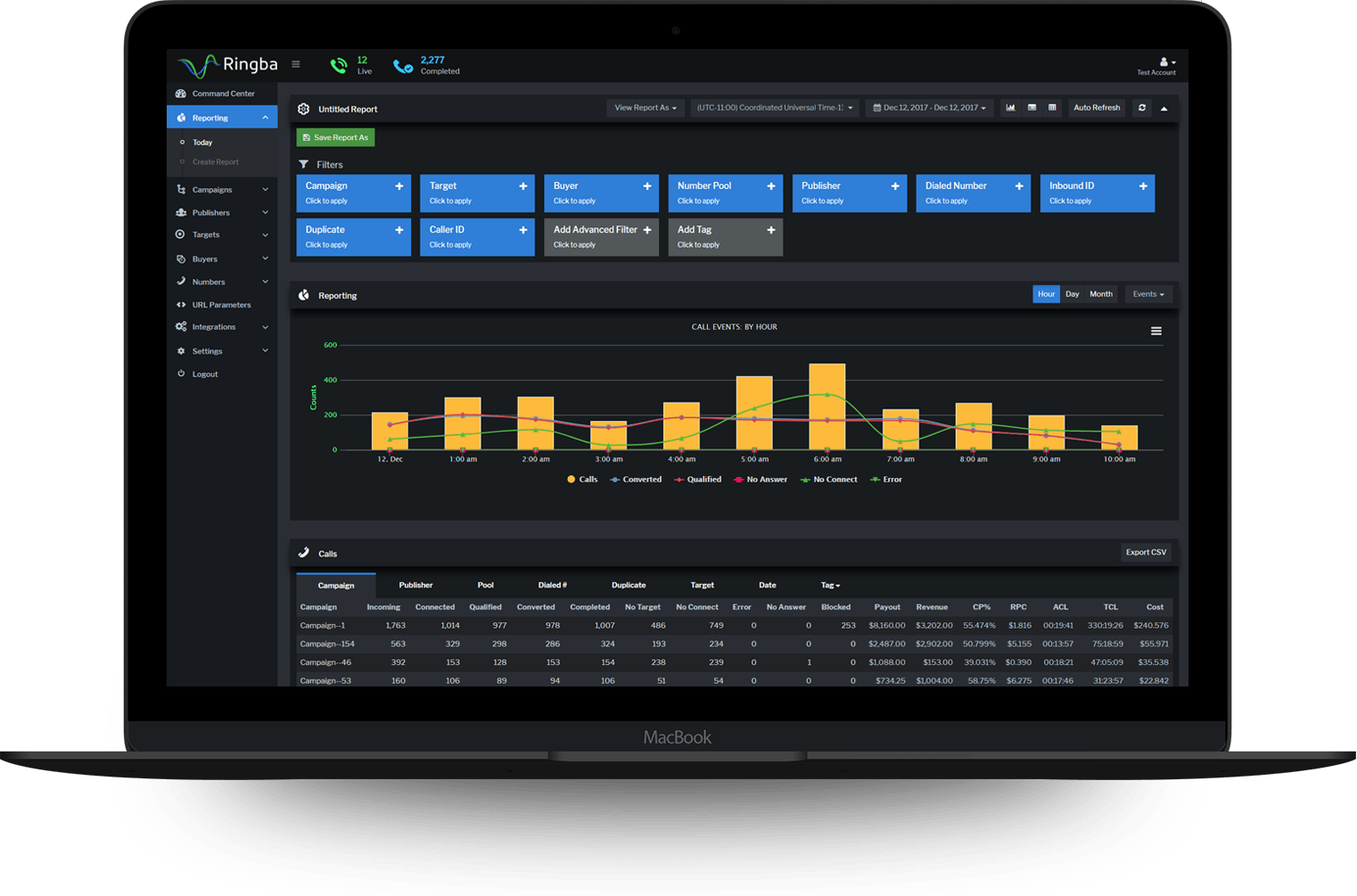 Data Extraction
Ringba allows extracting information regarding the general callers and even provides you with such detailed reports that are impossible to find anywhere else. Its reporting and analytics tools are really up to the mark.
Caller Insights
Not only before the call even after the call is made Ringba allows you to drive important and actionable insights related to the client. This helps in improving your revenues.
Scheduling
Another important feature of Ringba is its scheduling it allows its user to automatically schedule or reschedule order of work depending upon the input; this automated routing eliminates the abundance.
Ringba is even capable of taking multiple group order and schedule them appropriately looking at the resourced depending upon the priority.
Inbound sales
It is such an efficient platform that it connects the caller with any available agent according to their interest no matter what the location of that agent is in short, it can connect the customer with the agent even across multiple locations anywhere in the world. This promotes inbound sales.
Advanced Call Intelligence
Ringba allows its users to gain related important information about each of the web visitor or if there is a need they can track the specific data that you are looking for. They also provide you with a granular level report of your clients. This detailed reports and information basically allows you to monitor your client's activity etc. so the time they connect with you can actually make good use of the collected data.
Other Features of Ringba
Its several other features include its ability t block caller preventing spam call, whisper message facility which is basically a small message about the caller before the agent connects with the caller, it can easily track offline numbers and outbound calls as well and allows you to record any of the phone calls that you want.
One plus feature is that there is no contract needed and there is also no setup fee.
How Is Ringba Important For Your Business?
Ringba helps you improve your business by helping you to track any and every aspect of your campaigns online. The visibility it provides helps you to see the relevant data which you can optimize for efficiency. Helps you in creating new business, managing your call routings for you hence there are no more abandoned calls or wastage of opportunities. All this helps in increasing ROI (Return on Investment) and builds a better and clear picture of your business for you.
It even looks at your priority and balances the call loads by that. Basically gives you a complete knowledge of the call marketing that you need to for your success.
Ringba's Pricing
It provides you with various advanced features in a competitive price. It basically includes three pricing plans:
The Basic Plan:

 This is free.

The Premium Plan: 

This is $99 per month.

The Enterprise Custom Plan:

 According to your needs.
Ringba Users
Ringba is a very versatile platform and can be used by many different types of clients:
Pay per call networks.

Media Buyers / Affiliate Marketers.

Call centers.

Digital Marketing Agencies.

Small and large businesses.

Ecommerce vendors.
No matter what you own whether it is a small business or a large business or call center etc. Ringba is sure to optimize your opportunities. The cheap rates provided by Ringba are the key factor which makes it different and the best in competition amongst other platforms. That's not all Ringba provides you with all the tools you need to be successful in the call marketing business that too in such competitive pricing.
To get started with Ringba all you have to do is visit and register to their website:
Ringba | Enterprise Call Tracking Software